The blessings through our daughter's amputation④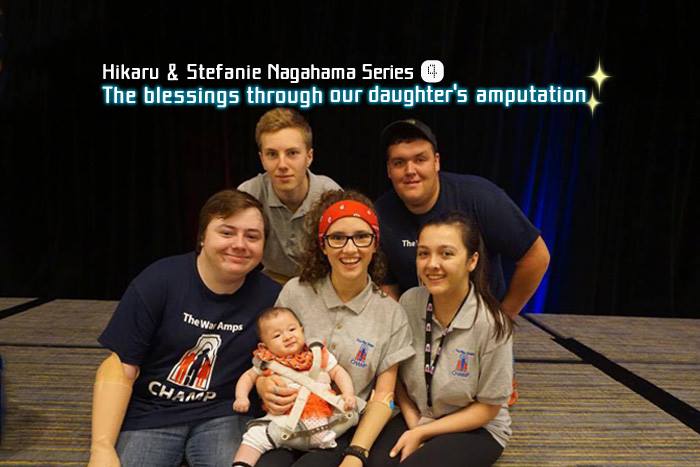 About the authors:
Hikaru Nagahama and Stefanie Santana are the parents of Mia Sachi, who was born missing her entire left leg. Hikaru is a businessman working in Tokyo, and is simultaneously pursuing his Executive MBA studies at IE Business school (university) in Spain. Stefanie is a law student at McGill University in Canada. She is currently living in Montreal with Mia Sachi.
About this article:
This is the first article of a series inviting the reader to learn more about life as parents of an amputee child. One of the very first things we noticed when we became parents of Mia Sachi was our very limited knowledge regarding amputations and the difficulties of being an amputee in Japan. There are over 14.2 million amputees (1 person /[SVS1]  845 people) and 3.6 million disabled people (1 person / 33 people) in Japan, but it is uncommon to cross one on the streets. This has created misunderstanding about amputees and even taboo about this condition.  We want to change the perception surrounding amputees and create equal opportunities for them so that Mia Sachi and millions of amputees around the world could live in a fairer and empathetic society. These series invite you to follow our journey to turn these goals into reality.
The beginning – By Hikaru Nagahama
Our War Amps Story
As I was preparing to welcome Mia to our family, I began to gather information about the different support sources she could access. That's when I became aware of the remarkable work the War Amps does for amputees, in particular the Child Amputees Program (CHAMP) – quite an accurate acronym to describe the kids participating in this program!
The War Amps is a centenarian non-profitable organization from Canada. It was founded by amputees veterans who wished to create a network of support and advocacy for war amputees. Over the years, their reach has extended and they now support virtually all Canadian amputees. Sidney Lambert, an illustrious member or the War Amps and the first president of the organization once said:
"Let us accept the challenge of amputation and overcome it in the same spirit that gave us victory in the days of war, victory in days of suffering and will ultimately give us victory in our own lives, crowned by achievement worthy of our best selves."
 As I've become involved in the organization, I've come to understand that the "spirit" referred by Lambert is courage, determination, enthusiasm and sense of community. I have witnessed how the War Amps embodies all these values through their programs and support, they also have encourage me and Mia to face the future with determination and joy.
The support I received from the War Amps started even before Mia Sachi was born.  Through a program called Matching Mothers and Fathers, I was matched with the parents of Leah from Ottawa, a brilliant young women who happens to have a leg amputation from birth. This program is meant to provide guidance for parents new to the experience of amputations. I will never forget my first phone call with Leah. I had so many questions about her amputation but was afraid to sound unassertive. Sensing my discomfort, Leah took the lead and talked about her amputation confidently and patiently answered all of my questions. Her confidence taught me an important lesson: amputations are not, and should not be taboo. Few months after, when Mia Sachi was a newborn, my husband and I had the chance to speak with Leah's parents. They generously shared their experience as parent's raising an amputee child. They helped us to see that Mia was going to be fine. I will never forget the words of Leah's mom. She told me that Leah is more independent and determined than her brother who is not an amputee. Leah's parents reassuring words meant the world to us, we knew our future with our little Mia was going to be bright.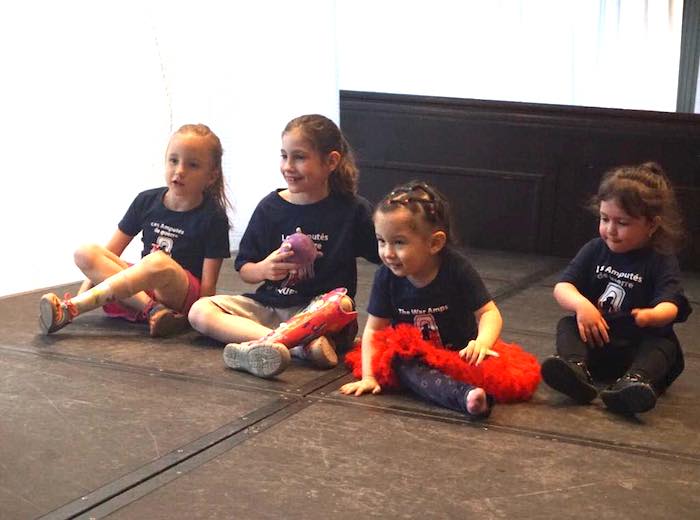 Our first CHAMP seminar
When Mia was 4 months old, we were invited to our first CHAMP seminar, a weekend long gathering for child amputees and their parents hold once a year in different regions of Canada. That year we attended the Toronto seminar. Not only the War Amps covered our flight expenses from Montreal to Toronto, but also book us into a nice hotel in downtown Toronto and took care of our meals. I had never experienced such generosity!
Until then, I did not have the chance to meet other amputees. That soon changed as I walked into the registration table and saw kids jumping and running around in their colorful prosthetic limbs, having fun like "normal" kids. Even the staff were amputees themselves. It was like entering a different land. A land where I did not have to worry about covering up Mia's leg to avoid the stares; a land where there was no difference between her and other kids; it was 360 degrees of content kids, toddlers and babies sharing the same challenge as my Mia Sachi. The feeling of relief that I experienced gave me vertigo, it was like a dream, actually better than a dream, it was real!  As I reached the registration table, a girl handed me the programs and name tags with her prosthetic arm, with an ability and confidence that left me astonished. Immediately after, I joined my mom, who was carrying Mia while I registered. When she saw my expression of joy and my tears, she also shed some tears of joy. My mom, to whom I am very close, had a difficult time accepting Mia's amputation. Her heart was broken when learnt that our little Mia had to live with a permanent and visible different-ability. I knew that until then, she was doing her best to keep a positive mind in regards to Mia's amputation, but deep-inside, she was still grieving her missing left leg. The War Amp seminars provided her with the reassurance she needed to know that Mia was going to be fine, even more than fine, she was going to be great!  We love the seminars and look forward every year to see Mia's friends and their families.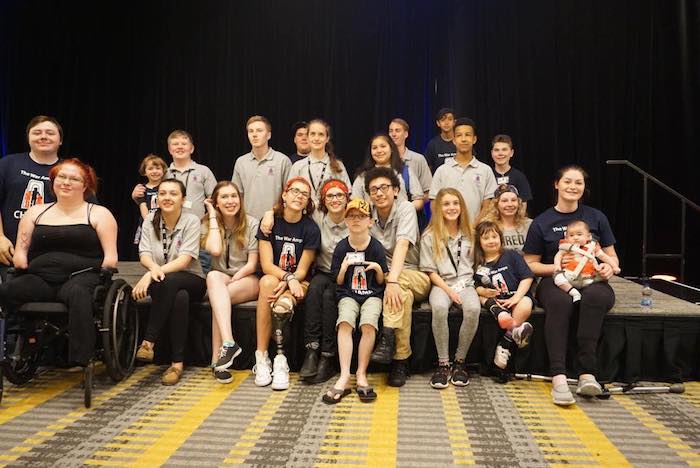 War Amp's comprehensive support
On top of the moral support, the War Amps also provided financial support for Mia's costly prosthetics limbs. She had her prosthetic limb changed 4 times already in 3 years! My husband and I have been at school for most of the past 3 years. Without the War Amps, it would have been challenging to make ends meet, financially speaking. There is no words that can express my family's gratitude to the War Amps for this essential support.
The War Amps is one of a kind: there is literally no other organization in the world offering comprehensive services to amputees as this wonderful association. As Canadians, we feel blessed to have benefited from its services and support and we would like to extend this support to young amputees in Japan. It is an ambitious project which we are working on for a year now and would like to keep you updated.